My 1979 Honda CB750F SuperSport
My 1979 CB750f Supersport
Well I guess the first thing I should do is introduce myself. My name is Tim I live in Redlands California. I am 39 years old and feeling every bit of it. I am currently going to college to be an Alcohol and Drug Counselor which is exactly what an ex-addict should be doing. I haven't ridden a motorcycle of my own in abiut 10 years. It was either economics or just plain lack of interest. I had decided in the passed couple of years that I really wanted a Harley.....Well as you can tell from the title of this page I have changed my mind...For the time being... I decided that I could ride a Harley when I was old and really didn't feel the need for speed...So I decided to try to find the bike of my teenage dreams....I finally found one that is in need of some serious TLC. Over the next few months or years how ever long I have it and continue to work on it I will be posting updates here. Thanks for stopping by
Listing Site Updates
The latest update is just trying to get the leaks found and fixed. Not an easy job on a $200 dollar motorcycle. I have purchased a few parts and will be adding pictures as I put them on. Well got the leaks fixed it turns out that the jackass I bought the bike from put pods on and ran the breather tube back into the engine. I have not done much to the bike lately. I mean to get out there every weekend but never seem to do so. I was hoping to have it painted but my kid knocked it over and put a huge dent in the tank. I was going to paint it with the dent but it is too much work to do for a tank like that. I have been looking to buy a tank but they are so expensive. Maybe I will get lucky and run across one somewhere.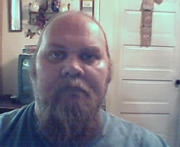 yeah thats me
Feel free to look around there ain't much here now But I hopefully will have more soon.
And if it isn't too much trouble could you sign the guest book for me. It only takes a couple of seconds and I would like to know who is stopping by.
????????
Here is a place to put something
Behind the Scenes of My Home Page
Even if I don't put much text on my home page, it's a good idea to include hidden tools that will help me promote my site, so people other than my friends and family actually see it. For example, I could add meta tags, which are hidden codes that allow search engines to find my site. I could also install stats and a counter so I know how many people are visiting. If not many are visiting, submitting my site to search engines will guide more traffic to my site.